Conference offers Climate Change Solutions to Benefit Health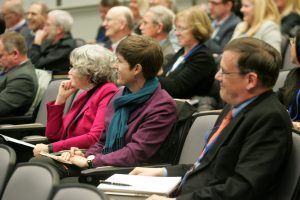 In its inaugural Climate Health Solutions Conference, the Medical Society Consortium on Climate & Health welcomed 280 doctors, nurses, and other health professionals from 21 member medical societies and 26 affiliated health and science-based associations to focus on promoting better health by advancing solutions to climate change.
The conference was held on April 8-10 at George Mason University's campus in Arlington, Virginia. The convening highlighted the health harms of climate change—particularly as they affect children and vulnerable populations—and readily available solutions that improve health and limit climate change.
The meeting opened with welcoming remarks from five founding medical society senior leaders (ACP, AAFP, NMA, AAP, ACOG) and two Virginia cabinet secretaries: Daniel Carey, M.D., of Health and Human Resources and Matthew Strickler of Natural Resources.  The leading officials in the administration of Virginia Governor Ralph Northam, M.D., affirmed the state's commitment to climate change solutions and resilience, and invited more collaboration from the medical community.
As keynote speaker, Mark Jacobson of Stanford University, founder of the Solutions Project, shared his inspiring vision of a complete transformation of the world's energy supply to clean renewable energy using wind, water, and solar energy together with inventive low-tech technologies for energy storage.  His analysis showed that this approach would be less expensive than the current energy supply system.  According to Jacobson, only the will to pursue this future is needed.
Cassandra Kubes, from the American Council for an Energy Efficient Economy (ACEEE), spoke of the potential to save many lives by cleaning the air–not by total transformation of the energy supply, but simply by choosing the latest and most efficient technologies to reduce polluted fossil fuel emissions.
Planting more green spaces was presented as another component of the solution to climate change by Philip Bogdonoff from Biodiversity for Livable Planet.  Reclaiming barren land with green plantings removes carbon dioxide from the atmosphere and confers many other benefits to communities.  Finally, a price on carbon was presented as a choice that remains viable.  This solution nearly became national law in 2010, failing to get the 60 votes to overcome a filibuster by only one vote.  This approach is already part of the regional greenhouse gas initiative in the northeast and is promoted nationwide by the Citizens Climate Lobby.
The conference included workshops for educators, communication professionals, and advocates focusing on state policy. Other highlights of the meeting included:
The latest research on the health impacts of climate change as identified by the 2018 National Climate Assessment and the new Lancet Countdown
The unique health harms, including the neurocognitive, pulmonary and cardiac effects of fossil fuel on infant and child development, particularly for children of color and of low-income families who have fewer options
Other adverse childhood events related to climate change disasters
The health harms associated with drilling for methane (natural gas)
Lessons from the healthcare sector, including outpatient offices, health systems, and health businesses like Walgreens and Johnson & Johnson on how the health sector—representing 17% of the nation's economy—can be a leader in addressing climate change through sustainable practices.
Attention to regional impacts and focus on vulnerable populations were themes of the meeting, recurring in many sessions.
Live streaming of the conference reached an online population of over 500 viewers.  On the second day of the meeting, 80 attendees from 24 states made 101 visits to their congressional representatives and senators, and asked them to support measures to decrease air pollution by switching from dirty fossil fuel energy to clean renewable energy.
Conference sponsors included Johnson & Johnson, Walgreens, the American Lung Association, the American Public Health Association, Kaiser Permanente, Health Care Without Harm, the Natural Resources Defense Council (NRDC), HKS Inc., Burness, and 16 collaborating organizational conveners.