VCCA Advocates in Richmond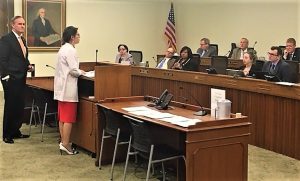 Virginia Clinicians for Climate Action (VCCA) held its inaugural Advocacy Day at the Virginia State Capitol in Richmond on January 25th. It was a tremendous success, with over twenty clinicians from across the state meeting with legislators to discuss the health benefits of acting on climate change. The State Health Commissioner, Dr. Marissa Levine, joined the group for lunch to discuss the effects of climate change on public health.  VCCA Chairperson Dr. Samantha Ahdoot provided public comment to the Senate Committee on Agriculture, Conservation, and Natural Resources regarding legislation authorizing Virginia to join the Regional Greenhouse Gas Initiative (RGGI). The following week Dr. Kathy Price testified in front of the House Committee on Commerce and Labor. Collectively, VCCA clinicians have met with dozens of Delegates & Senators over the past few wee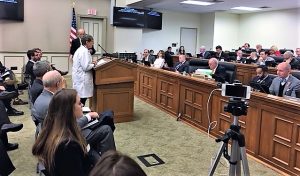 ks to discuss the health benefits of acting on climate. VCCA continues to build the coalition of doctors, nurses, and allied health professionals engaged in climate-health policy in Virginia. Virginia Clinicians will continue to engage the General Assembly during its 2018 legislative session and throughout the year. Our mission is to support solutions to climate change that will improve the health of our patients and communities.
Do you want to become a Medical Champion for Climate & Health?
Sign up and record your activities
---
Clean Energy
SB 696/ HB 1273– Va. Alternative Energy & Coastal Protection Act
Authorizes the state to join the Regional Greenhouse Gas Initiative (RGGI)
This will improve health and save lives of Virginians.
HB 392– Electric Utility Regulation, Solar Energy
Sets a goal of 10% Solar Energy in Virginia.
HB 393– Electric Utilities, Net Energy Metering, Program Cap
Lifts a 1% cap on net-metered renewable energy projects, removing a looming threat to Virginia's solar industry
Clean Water
SB 765– Coal Ash Ponds, Mandatory Testing of Drinking Wells
This bill monitors drinking water for Virginians in the Chesapeake Bay watershed.
Environmental Justice
HJ 32– Coal Dust Blown from Moving Trains
Coal dust is linked to numerous negative health impacts. This bill would require annual reports from companies that move coal by uncovered rail car.