September 2017 Champion!
Wendy Ring, MD
by Ira Dreyfuss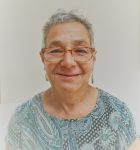 Wendy Ring, a retired doctor in rural California, is spreading the word about healthy climate solutions. After several years of public speaking about the health harms of climate change, (including two speaking tours across the US by bicycle), Ring realized that, as in clinical practice,  provoking fear rarely leads to action.  So she decided to turn the message on its head and emphasize the health benefits of climate solutions like clean air, healthy diets, and physical activity.
And to keep things fun and upbeat, she sometimes lets puppets do the talking. Dogs and wolves, a plastic lizard, and even a talking gas pipeline deliver the message in Dogs to the Rescue, a comic show where canines teach humans to stop climate pollution and turn Smogtown into Greenville.  Ring and other health colleague puppeteers have toured this show in 7 states and inspired others to form puppet troupes as well.
Ring is collecting a growing bibliography of studies on the health benefits of climate solutions. She curates a website to share this information with lay audiences. Ring also helps busy health professionals advocate for climate policy with Climate 911, a monthly email action network and gives trainings on effective climate health communication. She is also currently working in her community to pass municipal resolutions for 100% clean energy.