Healing and Sustaining a 'Good Enough' Mother Earth: The Physicians' Call to Action
Originally published on August 28, 2019 by David A.Pollack, M.D. and Robin Cooper, M.D. in Psychiatric News.
---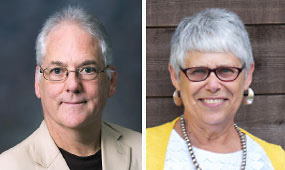 A patient presents to the emergency department (ED) with life-threatening symptoms. She is a 4.5-billion-year-old female who goes by the name of Gaia, although some call her Mother Earth.
She has experienced relatively good health; although she sustained and survived a few serious infections, the last of which was about 66 million years ago ("dinosaur extinctitis"). Then about 150 years ago she developed a fever of unknown origin. This was followed by a number of accumulating symptoms over the next 100 years, including sweating, palpitations, respiratory difficulties, and abdominal discomfort. In the last 40 years her symptoms have progressed steadily. She is now experiencing much greater respiratory difficulty, worsening fever, edema, intermittent episodes of urticaria, and excessive flatulence.
Her vital signs and lab findings on admission to the ED are very troubling: markedly elevated temperature, fluid overload, electrolyte imbalance, dramatic alteration of her gut and skin microbiomes, onset of septicemia, lowered pH, and markedly elevated CO2. Her MSE reveals a mature, pleasant, and loving woman with extremely depressed mood and suicidal ideation alternating with denial of illness and manic-like symptoms. She is admitted to the ICU for further evaluation.
Our patient, Mother Earth, reflects the situation we all face: Human-caused climate change is threatening the health of the planet and all its inhabitants. Continued dependence on fossil fuels and large-scale animal agriculture create increased greenhouse gases resulting in global warming.
The associated health threats are urgent and extensive. The effects of climate change aggravate existing medical conditions and create new health problems. The health impacts range from mild and transient to severe, chronic, and life threatening. Furthermore, climate change exacerbates existing inequities in our health system, causing greater hardship for everyone, but especially for vulnerable groups including the young, the old, and those who are socially, economically, or culturally disadvantaged.
The climate crisis and derivative disasters have already killed thousands and disrupted the lives of many more. Extreme heat waves create health emergencies, including heat strokes, increased violence, and suicides. Air pollution exacerbates serious respiratory, cardiovascular, and cognitive disorders. Insect vectors spread dangerous infections for a longer period and to more regions of the globe. The food and water systems upon which we all depend are compromised. With increasing extreme weather events, requiring urgent health care responses, delivery systems are unable to meet the challenge. Climate-induced mass migrations are leading to greater social conflicts and economic challenges.
Many medical societies have joined with other health organizations to prescribe the right treatment: the "U.S. Call to Action on Climate, Health, and Equity." This comprehensive plan—the result of extensive collaboration across all health disciplines—addresses what the World Health Organization calls the "greatest public health challenge of the 21st Century." It includes the following:
Climate actions for health: A return to the Paris Accords, as well as transitions to alternative energy sources; zero-carbon transportation systems; sustainable food systems, forests, and natural lands; universal access to safe and sustainable water; and to a just transition for workers and communities as we move to a low-carbon economy.

Health actions for climate: A commitment to inform and guide public policy on the health impacts of climate change to include climate solutions in all health and public health systems and initiatives, to incorporate climate-relevant curricula in training, and to collaborate in the creation of resilient communities.
Among the many signatories to the "U.S. Call to Action on Climate, Health, and Equity" are the AMA and other major medical societies. Psychiatric endorsers include the American Association of Community Psychiatrists and the Climate Psychiatry Alliance.
The "U.S. Call to Action on Climate, Health, and Equity" is the ICU treatment plan for Mother Earth. As she is healed, we all will benefit from its implementation.
The "U.S. Call to Action on Climate, Health, and Equity" is posted here.