Climate change is a health emergency… put on your white coat cape
by Dr. Amanda Millstein
Pediatrician, CA
---
I could hear the mother crying before I entered the exam room. Small gulps, muffled through the door.
Her baby was small, sleeping in her arms. Born at 37 weeks, I'd read in the chart. Mother with preeclampsia. One week in the NICU. Tongue-tie. No major complications.
Except this: this baby was born twelve hours after his parents evacuated their home in Northern California due to wildfire. His home, his nursery, every gift his parents had received in anticipation of their firstborn child, is now ash. As she was evacuating his mother developed blurry vision and a pounding headache. The family drove directly out of the evacuation zone and to our local hospital.
"Doctor," the mother said. "My baby is traumatized. What can you do?"
I have been in practice for five years and I already have too many stories like this to count: the ways in which climate change is impacting the health of the babies, children, teenagers, and families for whom I provide care. More frequent and deadly wildfires in the West. More tropical storms, floods, and dislocation. More vector born disease. Anxiety. Post-traumatic stress.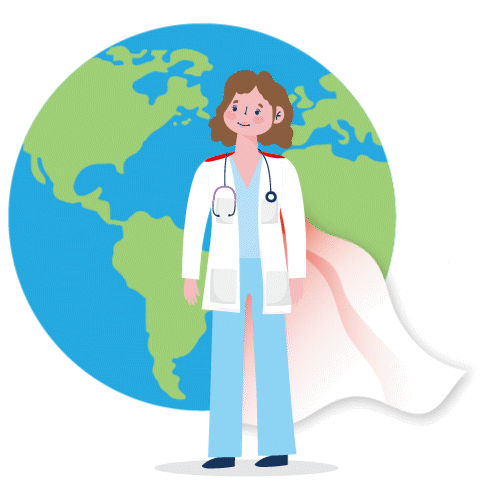 I am scared, and angry. My husband and I have long talks into the night about whether we should move. But where? I cry sometimes as I tuck my own children into bed or when they ask me if they too will be mommies and daddies when they are older.
But I feel this too: hope. Because action is the antidote to fear. My white coat has become my superhero cape. When I wear it, I am standing on the shoulders of giants. I can speak to parents, school boards, city council members, op-ed boards. Climate change is a health emergency, no more so for anyone than our children. The fossil fuels we are burning are heating our planet. We are burning down nurseries. To stop means to change the system. I can help.
I am not the first to know about the white coat cape. But I am here to spread the word. Put yours on. Our children need us. Let's go.
***
Watch our Health Voices for Climate Action videos, featuring Dr. Amanda Millstein and other health professionals speaking about how climate change affects the health of their patients.