August 2017 Champion!
Samantha Ahdoot, M.D., Pediatrician – American Academy of Pediatrics (AAP)
by Ira Dreyfuss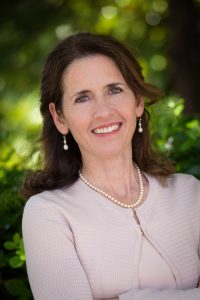 Oppressive heat, which saps energy from most of us, first motivated Dr. Samantha Ahdoot. That's in part because of her son, Isaac.
In 2002, when the pediatrician and her husband, Kenneth, an obstetrician/gynecologist, were medical residents in Boston, Isaac was only 2 months old, and Boston was suffering through a record heat wave. Their modest apartment had air conditioning only in the bedroom, which became too confining. "I spent the week in Starbucks," she says.
The experience of coffee shop living gave Dr. Ahdoot lots of time to think about how summers were becoming hotter.
"I started thinking about climate change, and what it could mean for my son," she says.
The Georgetown University School of Medicine graduate returned to the Washington, DC, area, where in 2009, she and Isaac suffered through another scorcher – the hottest July recorded to that date. Isaac, then a 9-year-old clarinet player, was at band camp when he suffered severe heat injury.
"My son collapsed and went to the emergency room," she says. "That's when I really got worried. I realized that our kids are growing up in a different climate than the one we experienced, and I felt scared for them. My personal experience tipped me over the edge from awareness into action."
Dr. Ahdoot began reading about the intersections between climate change and health.  She started to write on the topic for local newspapers, leading to a connection with Washington physician Jerome Paulson, then chairperson of the American Academy of Pediatrics  Council on Environmental Health. After collaborating together for a year, he asked her to be lead author of the AAP's policy statement, Global Climate Change and Children's Health, published in the AAP journal Pediatrics in 2015. Working on the article helped to propel Dr. Ahdoot deeper into the advocacy mix.
On the national level, this included testimony before the U.S. Environmental Protection Agency in the run-up to the creation of the Clean Power Plan, the Obama administration's milestone policy to combat climate change by reducing power plant pollution. (The EPA now has the plan under review, after an executive order from President Donald Trump).
As a Virginian, though, Dr. Ahdoot felt the need to foster change where she lives, especially in the arena of climate change and health. "There was no health voice in the climate change or clean energy discussion in Virginia's General Assembly. It did not exist," she says. "I felt strongly that the health perspective needed to be brought to the table."
To do it, Dr. Ahdoot and colleagues created Virginia Clinicians for Climate Action (VCCA) a clinicians' coalition. The group has found a broad base of support in Virginia's medical community. They are providing educational events and advocating at state and local meetings.
"Doctors recognize that climate change is affecting their patients today, but they have received little education on this topic and don't know what they can do." Dr. Ahdoot says. "VCCA is creating opportunities for clinicians to learn and get engaged."