September 2020 Champion!
Dr. Hayley Guilkey, MD
Pediatrician in Little River, SC
---
It's not quite accurate to say the climate crisis has South Carolina caught between the proverbial rock and the hard place. Where Dr. Hayley Guilkey lives, it's caught between the rising sea levels and the Low Country. She's also in the East Coast's Hurricane Alley, with its pattern of recurring disasters.
As a result, Dr. Guilkey has her hands full. The pediatrician is working to convince South Carolinians that the climate crisis is a health emergency and to persuade them to do something about it.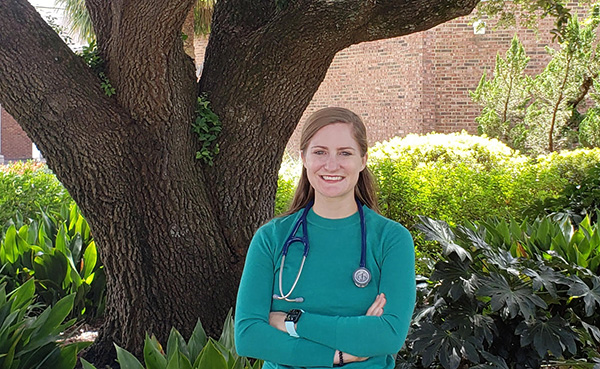 "In South Carolina, we have a lot of things working against us," says Dr. Guilkey, whose practice is in the waterfront community of Little River near Myrtle Beach, where it provides healthcare to underserved patients. "Two years ago, with [Hurricane] Florence, we had devastating flooding and a lot of patients who had to live in shelters, and had to move away for months."
It's not just high water. Heat is a huge health issue, especially when combined with humidity, both of which also get worse with climate change. And the crisis is an equity issue because the poor and members of minority groups generally lack resources to adapt. "I see a lot of impacts already, which can be scary," she says.
To fight the crisis, Dr. Guilkey is active in several ways. She is a founding member of South Carolina's Health Professionals for Climate Action, an affiliate of the Medical Society Consortium. She's a co-author of an op-ed in Charleston's Post and Courier, and she's co-sponsor of a draft policy statement before the state medical association's House of Delegates, both with a colleague pediatrician, Dr. Steph Lee.
In the op-ed, Drs. Guilkey and Lee highlight ways in which the pandemic makes the climate crisis worse. Among them: changing weather patterns can shift disease vectors into new areas, creating new avenues for virus mutation, and making people more vulnerable to diseases such as COVID-19. The article notes county-level research at Harvard that found deaths from COVID rose as air pollution rose.
In the draft policy statement, Drs. Guilkey and Lee call on fellow physicians to talk with patients and with other doctors, reduce carbon footprints, and press for change in government policies.
"Once we have a good foundation of health professionals, we can reach our patients – and make big changes statewide," Dr. Guilkey says.