October 2017 Champion!
Mark Mitchell, MD MPH – National Medical Association (NMA)
by Ira Dreyfuss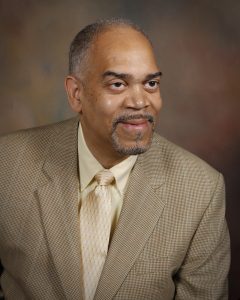 Dr. Mark Mitchell was trying to convince Connecticut state health officials that they had a serious environmental health problem on their hands, but the officials just didn't seem to get it.
It was in 1995; Mitchell had been doing physicals for a summer day camp for elementary and middle school kids in the majority Black and Latino City of Hartford, the state capital. "I had found a third of them had asthma," he says.
The reaction from the state officials:  "They said it wasn't unusual for a third of inner city kids to have asthma, implying therefore it doesn't need to be investigated, and nothing needs to be done."
An African-American public health physician trained in environmental health and health policy, Mitchell had been director of Hartford's health department. He had been watching environmental health problems rise in communities of color, and asthma was high among the problems. He was frustrated that these issues continued to not get the attention they deserved.
To try to do something about it, after Mitchell left the Hartford health department, he started an advocacy group, the Connecticut Coalition for Environmental Justice. He then went on to create his own company and to work with organizations such as the National Medical Association and the Medical Society Consortium on Climate and Health, of which NMA is a member.
Other physicians working with minority populations, notably physicians in the NMA, also had been seeing rising rates of health conditions associated with climate change. In 2014, Consortium director Mona Sarfaty, M.D, with Mitchell and two colleagues, published results of a survey of NMA members. "Over 86 percent of respondents indicated that climate change was relevant to direct patient care, and 61 percent that their own patients were already being harmed by climate change moderately or a great deal," the report said.
Mitchell knows that many of his medical colleagues, busy as they are, "are concerned about their patients, and not just what happens in the office." They want to take action.
Medical organizations, including the Consortium, are excellent avenues for advocacy, Mitchell says. The NMA's relation with the Consortium is a case in point, because the Consortium can magnify the NMA's visibility and message. "It helps us to emphasize the health effects in communities of color and low-income communities, as vulnerable communities, while at the same time pointing out that this is important to mainstream medicine," he says.