October 2019 Champion!
Dr. Ankush Bansal
Florida Hospitalist and Lifestyle Medicine Physician
---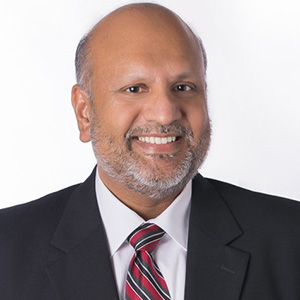 As a locum tenens hospitalist, Ankush Bansal doesn't get to stay a lot at home in South Florida. But he's there enough to see what's happening with the climate in his area, and he travels enough to understand how it fits into the global climate crisis. Now he's working on convincing other doctors of the extent of the crisis and persuading them to take action.
There's no question about the crisis. For instance, hurricanes, fueled by warming waters resulting from global warming, are more intense. In 2017, Irma turned Miami-area roads into rivers. Elsewhere in the state, the Category 4 storm left greater devastation. "Miami is lucky," Dr. Bansal says. He doesn't expect the luck to last.
And Dr. Bansal has seen how it's been getting worse elsewhere. In Napa Valley, California, last year, patients had respiratory issues from wildfire smoke. The smoke came from fires on land parched by drought worsened by climate change. In Houston in September, the air was so bad that Dr. Bansal went into bronchospasm.
Dr. Bansal wants the medical community to realize the danger.  He works with many organizations, including Florida Clinicians for Climate Action. He was on the data collection and interpretation team of The Lancet's call for clinicians to act on planetary health, published in April. He writes op-eds for area newspapers. And he talks directly with physicians.
Talking with physicians isn't always easy, Dr. Bansal says. "The laws of physics that drive climate change are independent, but people have ideologies that influence how receptive people are to accepting scientific fact," he says.
"Those who don't accept the fact can be reached," Dr. Bansal says. "I generally go after what they care about the most – their health, their family's health, and their pocketbooks," he says. "This excess heat, these fires, these floods are going to affect your property values, the local economy. You're going to see more patients who are sicker, and a lot more uninsured people, and you're not going to get paid."
And Dr. Bansal wants to spur action by those who accept the fact of the climate crisis but don't yet feel the need to do something about it. "Talk at the practice, having lunch, or grand rounds. Talk to your local politicians. Get one of your patients to talk," he says. "My message is they need to go to the next level."