June 2019 Champion!
Vishnu Laalitha Surapaneni, MD
Assistant Professor of Medicine, Division of General Internal Medicine, University of Minnesota
---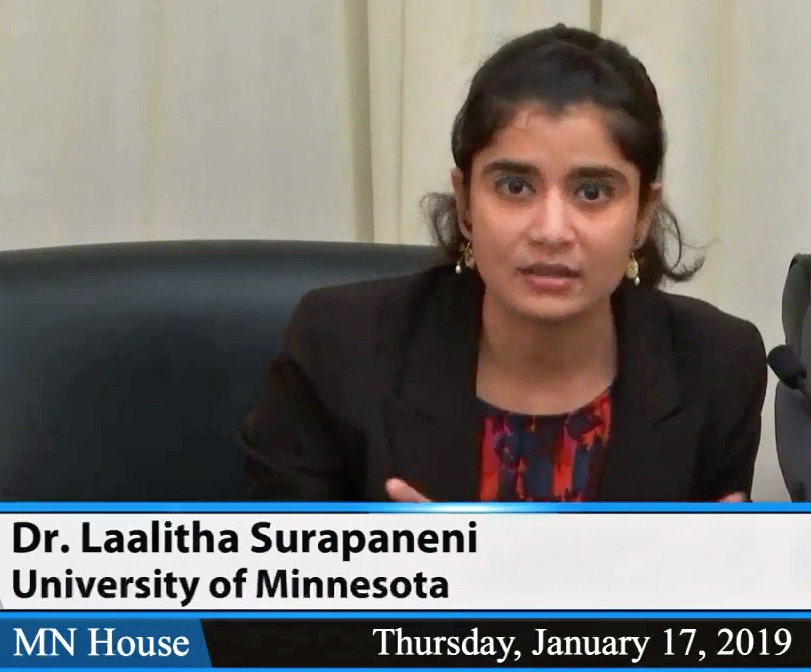 Through her apartment window in Cleveland, Ohio, Dr. Vishnu Laalitha Surapaneni saw the Case Western Reserve University hospital where she was training in her internal medicine residency. She also saw smokestacks of local power plants spewing pollutants such as particulate matter and mercury in thick gray clouds. University Hospital, a place of healing, was awash in an atmosphere of toxins.
"That image impacted me deeply," Dr. Surapaneni says. "I felt a sense of desperate urgency that motivated me to mold my career into one of climate and health advocacy."
Dr. Surapaneni had understood since childhood in India, as part of her culture, that humans are a part of nature, and that we hurt ourselves by polluting our air and water. She also was aware of global warming – especially in India, where summers that were historically baking hot were growing constantly hotter. As a student at the Johns Hopkins Bloomberg School of Public Health, she had gained scientific understanding into how climate change affected the health of people all over the world, especially those with low-income and people of color.
For Dr. Surapaneni, spreading information about the climate crisis had become an urgent mission as she worked with Chesapeake Physicians for Social Responsibility in Maryland fighting for clean air policies in Baltimore.
At the University of Minnesota, where she practices as a hospitalist, she is part of the Academic Health Center that developed a curriculum on Climate Change and Health. She also works with Health Professionals for Healthy Climate, a group of physicians, nurses and public health professionals advocating for 100 percent clean energy in Minnesota. Dr.Surapaneni recently published an article on how health professionals can take climate action. In January, she was invited to provide expert testimony on the health impacts of climate change to the Minnesota House Energy and Climate Finance Committee.
Dr. Surapaneni says younger doctors are not content to stay in their offices. "Students and residents are aware of social determinants of health, and motivated to advocate for policies to shape a better world. All physicians should be," she says.
"As physicians, we are bound by the Hippocratic oath to prevent what we cannot treat. Our climate crisis needs bold science-based policy to transform our fossil-based electricity, transportation and food-systems. We need to use our privilege as health professionals to collaborate with our lawmakers and advocate for clean climate policies."