December 2017 Champion!
Mimi Guarneri MD, ABIHM – American College of Cardiology (ACC)
by Ira Dreyfuss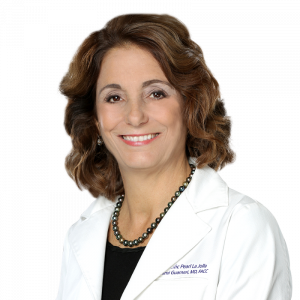 As a cardiologist, internist, integrative medicine specialist and climate activist, Dr. Mimi Guarneri examines how things interconnect. She's not liking a lot of what she's seeing.
Dr. Guarneri is the medical director of Pacific Pearl La Jolla and president of the Academy of Integrative Health and Medicine. The community, part of San Diego, is about 30 miles north of the Mexican border, which puts it more than 200 miles south of the Thomas wildfire north of Los Angeles that left a landscape of ash across an area larger than New York City.  The distance does not lessen her concern.
Dr. Guarneri knows the climate patterns which created the drought and fierce winds that left the LA area so vulnerable, leave other areas vulnerable, "We all live together as one," she says.
The interconnectedness links everything from the planet to the cells of the human body. As a cardiologist and internist, Dr. Guarneri knows how the wildfire's smoke and ash – carbon particulate cousins of smokestack pollution from the usual sources, such as coal-burning power plants – place patients with cardiovascular disease, as well as patients with asthma and similar conditions, at higher risk of worse illness and even death. "Air pollution is one of the biggest causes of cardiovascular disease and stroke," she says.
That said, if interconnectedness can make things worse, it also can make them better, which is a key focus of Dr. Guarneri's work.  She has a new book, "108 Pearls to Awaken Your Healing Potential." She is medical director of an integrative health clinic that bears her name; other titles include being president of the Academy of Integrative Health and Medicine, an interprofessional association of integrative clinicians, which she created.
A key purpose of the academy is to create physician awareness of how climate change affects health. "If you look at our core values, they are for planetary health as well as human health, to educate clinicians across the board," she says.
Thinking globally help Dr. Guarneri act globally as well as locally. She was a panelist in the Vatican conference on climate change in November. "We need to think we are all connected, because we are," she said at the conference. "We need to shift from an ego-driven model to an eco-driven model."