April 2018 Champion!
Nitin Damle, MD, FACP – American College of Obstetrics and Gynecologists (ACOG)
by Ira Dreyfuss
For decades, scientists and activists have been warning about the dangers that climate change creates. Getting the public to think hard about the scope? Well….
"It sits on everybody's back burner – until you realize it. You've got to move it to the front."
– Dr. Nitin Damle, immediate past president of the American College of Physicians.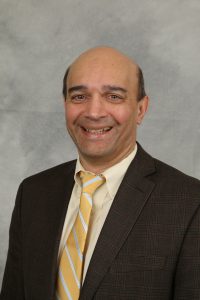 Damle, an internal medicine specialist in Wakefield, Rhode Island, has been doing just that. He has been lecturing across the United States and around the world about the health effects of global warming, and he was among the coauthors of the ACP's position paper, "Climate Change and Health."
The first sentence of the abstract sums the issue: "Climate change could have a devastating effect on human and environmental health." And the abstract's last sentence is the call to action: "Tackling climate change is an opportunity to dramatically improve human health and avert dire environmental outcomes, and ACP believes that physicians can play a role in achieving this goal."
As an organizational leader of a worldwide group of 155,000 physicians, Damle is pushing hard to have the medical community leap the gap that separates the abstract's first sentence from its last. His talks strike what he calls "a strident note," to galvanize action. But he says the drive for physician activism has a long way to go.
"The common reception is one of sudden awareness – 'Wow, this is a real problem,'" Damle says.
Translating this raised awareness into action can require some rethinking by doctors. They are reluctant to talk with patients about global warming, Damle says. This, even though the patients can have conditions such as asthma and heart disease that are exacerbated by pollution and heat that are hallmarks of climate change.
Some patients are not ready to hear it, Damle says, but he adds that in many cases it's worth trying. "If a patient comes in with asthma and he has noted increased exacerbations and suffering longer, that's a good time," he says.
Similarly with community outreach. Damle hopes doctors will talk with their staff, with legislators, and at community events and town halls. He says people will listen and learn once they see why the message about taking action against climate change is important. "You have to focus on their health effects – how it is going to affect them."