July 2, 2020 Webinar: Heat Exposure for Outdoor Workers
---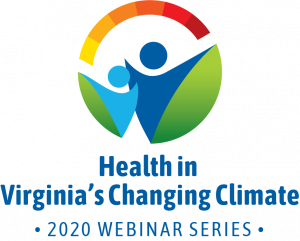 VCCA is proud to launch our 2020 Webinar Series, Health in Virginia's Changing Climate!
Through monthly webinars, VCCA will bring experts from academic centers across the region to discuss how changes in climate are affecting health conditions such as allergic rhinitis, waterborne infections, and heat illness.  These events will be held on the first Thursday of every month from 12:30-1:30 (adjusted for holidays).
Thursday, July 2, 2020 | 12:30 – 1:30pm EST
Heat Exposure for Outdoor Workers
The fourth of our 2020 webinar series will feature two presenters on the topic of protecting outdoor workers from dangers posed by rising temperatures due to climate change.
Dr. Julia Gohlke from Virginia Tech will present on results from a research study conducted in Alabama, in which City of Birmingham public works employees, along with residents in urban and rural locations, participated in a week long study to estimate heat exposure during the summertime. Results will be compared with other studies examining heat exposure for outdoor workers in other locations within the United States. Implications of findings will be discussed in the context of climate change that has occurred, as well as climate change that is expected to occur.
VCCA Steering Committee Member, Dr. Robert Kitchen will also be reporting on the status of legislation for the protection of workers from extreme heat in the Commonwealth of Virginia as well as state and national efforts in this area.