Sep 9, 2019 – Webinar: Climate Choices and the Future of Dangerously Hot Days
---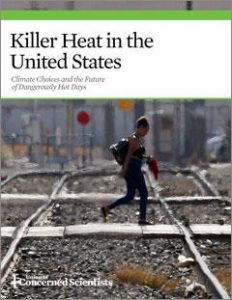 Monday, September 9, 2019 | 1:15 PM – 2:45 PM EDT
The United States is facing a potentially staggering expansion of dangerous heat over the coming decades. This July 2019 Union of Concerned Scientist report, Killer Heat in the United States: The Future of Dangerously Hot Days, shows the rapid, widespread increases in extreme heat that are projected to occur across the country due to climate change, including conditions so extreme that a heat index cannot be measured. The analysis also finds that the intensity of the coming heat depends heavily on how quickly we act now to reduce heat-trapping emissions.
The report includes a tool where you can compare the temperature impacts of climate change in your community in the United States under a number of scenarios. If we don't change the current GHG emissions trajectory, Washington, DC, where I reside, 100-degree days jump from 6 to 42 a year by midcentury with 24 days over 105 degrees. That is a wake-up call if I ever heard one to take bold action now to dramatically reduce emissions and prevent the worst from becoming reality.
Join SSF and UCS report authors Dr. Rachel Licker, Senior Climate Scientist and Dr. Rachel Cleetus, UCS Policy Director in a review of the report methodology, projections and concepts for adaptation.