May 7, 2020 VCCA Webinar Series: Ticks and Tickborne Diseases of Virginia
---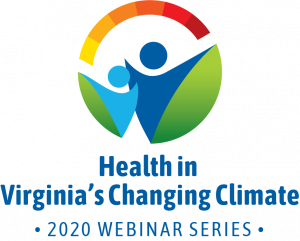 VCCA is proud to launch our 2020 Webinar Series, Health in Virginia's Changing Climate!
Through monthly webinars, VCCA will bring experts from academic centers across the region to discuss how changes in climate are affecting health conditions such as allergic rhinitis, waterborne infections, and heat illness.  These events will be held on the first Thursday of every month from 12:30-1:30 (adjusted for holidays).
Thursday, May 7th, 2020 | 12:30 – 1:30pm EST
Ticks and Tickborne Diseases of Virginia
The second of our 2020 webinar series will be delivered by Dr. Holly Gaff, a Professor in the Department of Biological Sciences at Old Dominion University with extensive research and publications on Tick-borne diseases. Dr. Gaff will discuss tick ecology and migration patterns which ultimately affect the health of Virginians through transmission of diseases such as Lyme Disease. Dr. Gaff will discuss how health professionals can help connect the dots between the health of the planet and the health of our patients.