May 14, 2019 – Webinar: Public Health Impacts of a Just Transition
Tuesday May 14, 2019 – 7:00pm to 8:00pm
---
PSR Philadelphia is happy to invite you to this joint webinar with our friends at EQAT!
How can a just transition to renewable energy save lives and improve health? In this webinar, learn from Physicians for Social Responsibility's Pouné Saberi and POWER's Anthony Giancatarino about the need for a just transition and how it could not only improve the health of the climate, but the health of our communities.
Register online at: eqat.org/healthwebinar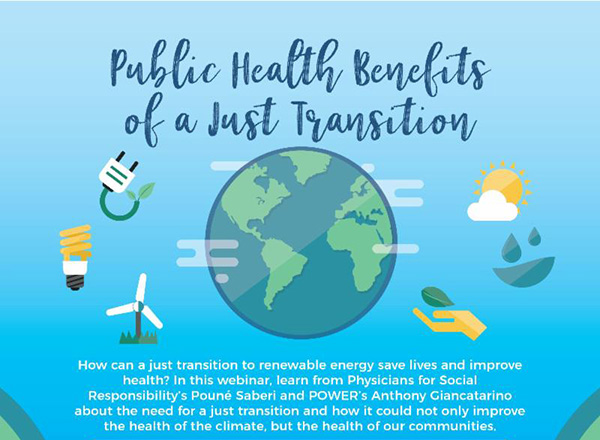 Dr. Pouné Saberi, MD, MPH, President, Board of Directors, Physicians for Social Responsibility has been a doctor for 15 years currently specializing in Occupational and Environmental Medicine. Her work focuses on health impacts of fossil fuels and climate change, and health benefits of transitioning to clean renewable energy sources.
Anthony Giancatarino, project fellow on Just Community Energy Transitions (JCET) housed at the Movement Strategy Innovation Center. He partners with local leaders to support organizing efforts, strategic planning, alignment building, and community-driven policy solutions that seek to transition away from extractive policies, practices, and spaces towards a more rooted and regenerative energy economy.