March 12 Webinar: Environmental Justice – From the Beginning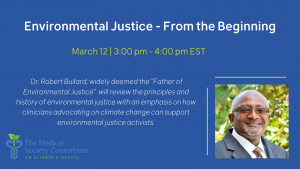 Join the Consortium for a webinar with Dr. Robert Bullard, widely deemed the "Father of Environmental Justice. " The webinar will review the principles and history of environmental justice with an emphasis on how clinicians advocating on climate change can support environmental justice activists. We are thrilled to have Dr. Bullard share his expertise with our community of climate and health advocates.
This webinar is part of a series associated with the Consortium's Climate and Health Equity Fellowship.
Dr. Robert D. Bullard, Ph.D. is widely known as the father of environmental justice. Dr. Bullard is a 2020 recipient of the prestigious UN Environment Programme (UNEP) Champion of the Earth – Lifetime Achievement Award, the UN's highest environmental honor, recognizing outstanding leaders from government, civil society and the private sector. At Texas Southern University (TSU) he is a Distinguished Professor of Urban Planning and Environmental Policy and the former Dean of the Barbara Jordan-Mickey Leland School of Public Affairs. Prior to coming to TSU, he was founding Director of the Environmental Justice Resource Center at Clark Atlanta University. His book, Dumping in Dixie: Race, Class and Environmental Quality, is a standard text in the environmental justice field, and he is the author of 18 additional books addressing sustainable development, environmental racism, urban land use, industrial facility siting, community reinvestment, housing, transportation, climate justice, disasters, emergency response, and community resilience, smart growth, and regional equity. Additionally, As Co-founder of the HBCU Climate Change Consortium, he raises awareness about the disproportionate impact of climate change on marginalized communities and works to develop from historically black colleges and universities (HBCUs) student leaders, scientists and advocates on issues related to environmental and climate justice policies, community resilience, adaptation and other major climate change topics
 Read about his 2020 UN Environment Programme (UNEP) Champion of the Earth – Lifetime Achievement Award and the establishment of the Robert D. Bullard Center for Environmental and Climate Justice (CECJ) at Texas Southern University.