July 29 Webinar: Health Professionals Advocate: Healthy Voting for a Healthy Future
Hosted by Climate Health Now.
Health and medical professionals and health students — please join us for an interactive "action-ar" to learn about why safe and healthy voting is a climate issue and how we can use our health voices most effectively in preparation for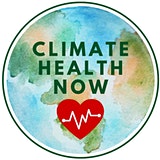 the November election. We will be learning about what healthy voting means in the time of COVID-19 and hearing from experts at the Union of Concerned Scientists and the Voting Rights Lab. We'll be taking some immediate actions on the call to advocate for healthy voting and brainstorming and networking for further actions. This call will not focus specifically on one state — health professionals and students around the country are welcome. Please join us!
Please note: we will email you with the Zoom link the day before the event. For regular CHN members, the link is the same as our regular monthly meetings.