Dec 9, 2019: Climate for Health Ambassadors Training
Monday, December 9, 2019  |  9:00 AM – 1:00 PM EST
Kaiser Permanente Center for Total Health, 700 2nd Street Northeast, Washington, DC 20002
---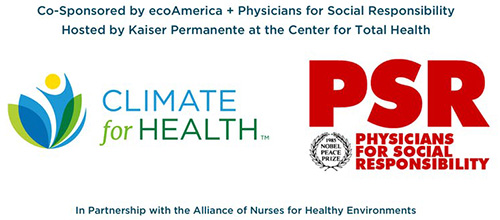 Americans are growing more concerned about climate change. As they witness and experience impacts to their health, livelihoods, and communities, they are increasingly looking for guidance on solutions, from leaders in their daily lives – including health leaders like you.
ecoAmerica and Physicians for Social Responsibility are partnering to offer the Climate for Health Ambassadors Training Program on December 9 in Washington, DC at the Kaiser Permanente Center for Total Health. Join us for a free, interactive 4-hour training that will cover the links between climate and health, the spectrum of solutions, speaking effectively on the topic, and opportunities to act and advocate.
Nursing Continuing Education is available for participants in this training. Additional information about continuing education forthcoming.
Upon completion of the full training and signing the Climate for Health Ambassadors Agreement (optional), health professionals will be given Climate for Health Ambassador designation. These leaders will be invited to be listed publicly as trained leaders who are available to present on climate and health.
If you have any questions before registering, please contact HealthAmbassadors@ecoAmerica.org.