About   Registration   Hotel   Agenda   Sponsorship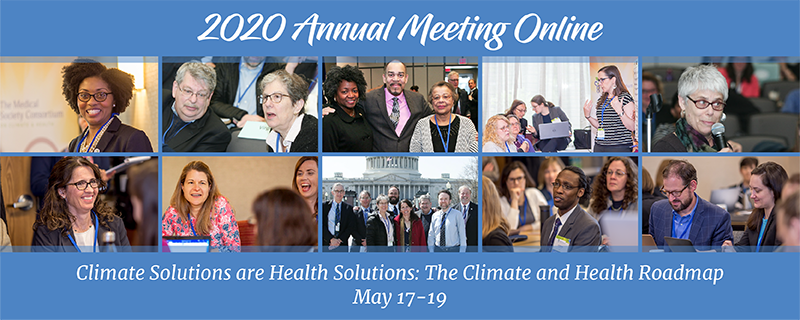 Annual Meeting Presentation Slides & Videos


---
 About the Online Meeting
The Medical Society Consortium on Climate & Health has canceled the in-person events of the Annual Meeting on May 17-19, 2020. Instead, the Consortium team will be hosting online sessions through Zoom. Links will be provided by email to participants who have registered.
Thank you to everyone who has registered and supported us. In this time of uncertainty, we especially value all that our medical community does. We are working diligently to provide a way to come together, albeit remotely, to learn and share ideas.
Sunday, May 17: Includes a strategy session for State Affiliates, and meetings of the Board of Advisors and Steering Committee via Zoom.
Monday, May 18: Includes sessions via Zoom on Climate, COVID-19, and Equity and Advocacy for Climate Health Solutions in 2020. There will be breakout discussions following each panel.
Tuesday, May 19: Zoom calls to Legislators.
***
The Consortium has grown rapidly and is now comprised of 29 medical societies, representing over half the physicians in America. Consortium Affiliates include 44 aligned public health, and state-based associations representing millions of public health professionals. In June 2019, the Consortium and other leading health organizations launched the US Call to Action on Climate, Health, and Equity: A Policy Action Agenda, which declared that climate change is a "public health emergency" and offered a roadmap that addresses climate change and is also beneficial to health. This agenda is now endorsed by over 150 medical, nursing, and public health societies and schools, and organizations representing 500 hospitals and health systems.
The Consortium is engaging in a conversation with the American public and policymakers about the health benefits of the policy action agenda. This conversation is greatly needed because many Americans are unaware that climate change poses a danger to their health and the health of their loved ones. Learning this information has been shown to help heighten people's concern about the problem and willingness to support solutions.
If you have questions, please contact us at info@climateconsortium.org
---