Open Now: 2024 Climate & Health Equity Fellowship Applications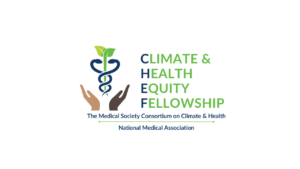 The Climate and Health Equity Fellowship was launched by The Medical Society Consortium on Climate & Health in recognition of the fact that climate change is both a health emergency and a major health equity issue. Throughout the U.S. there is a need for more diversity in climate and health leadership and a sharper focus on equitable climate solutions. The goal of the Fellowship is to empower doctors from populations that face greater burdens from climate effects and are under-represented in medicine to become leaders in climate and health equity education, advocacy, and policy solutions.
The fellowship convenes over 10 months virtually for discussion, seminars, skill-building activities, and webinars with expert speakers. Each month focuses on a different climate and health theme, including extreme heat, mental health, transportation, clean energy, and patient and community resilience. In between monthly sessions, fellows are tasked with specific practicum activities, such as conducting public outreach and education, identifying and assessing how to respond to a climate policy or regulatory issue in the region, developing their own climate and health equity presentations, developing testimony, and writing letters to the editor. Each fellow is required to develop and complete a capstone project. The projects are diverse, expansive, and impactful, and require 40 hours outside of class time. Each fellow will be paid a stipend of $10,000 to compensate them for the time away from their normal job. For more information about previous cohorts, see: class of 2021 | class of 2022, | class of 2023
Requirements:
Fellows are expected to:
Be a member of one or more of the Consortium's member medical societies (the full list of our member societies can be found here).
Complete the CHEF program, able to effectively promote equitable & health-focused climate mitigation & adaptation policy solutions.
Meet in person for a two-day program orientation February 10 & 11, 2024.
Clear your calendars to be able to participate in all semi-monthly four-hour virtual meetings to obtain knowledge and skills-based training on climate change and health equity from March through November.
Complete readings and preparations between meetings
Increase engagement in advocacy activities (e.g. speaking with policymakers, writing op-eds, recording short videos of yourself, preparing testimony, etc.).
Complete engagement assignments and Capstone project.
Provide on-going feedback, end-of-program evaluation & post-program evaluation.
All Fellows will be paid $2,500 quarterly for meeting the expectations as outlined for a total of $10,000. (please review a more detailed list of requirements in the application link below)
---
This program is made possible with the generous support of our funders: Johnson & Johnson, Energy Foundation, Robert Wood Johnson Foundation, American Medical Association, and American College of Physicians.