Nursing Organizations Launch a New Initiative: Nurses Drawdown
The Medical Society Consortium on Climate and Health is proud to share news of a new organization launched with support from a few of our own members.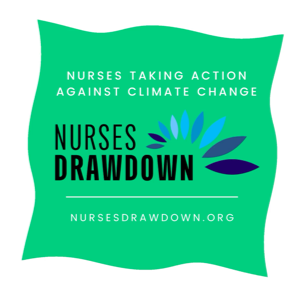 Nursing organizations around the world last week launched a new initiative: Nurses Drawdown. Launched in the year of Florence Nightingale's 200th birthday, Nurses Drawdown provides nurses around the world with solutions to climate change and a community of nurses to support climate action and cheer each other.
Read more from the Nurses Drawdown:
"In this Year of the Nurse and Midwife, nurses loudly proclaim that we can solve the climate crisis! We can take action to drawdown greenhouse gases to improve the health of both humans and the planet. We invite all nurses to join Nurses Drawdown.
Nurses Drawdown encourages you to implement the drawdown solutions at home and work; teach the drawdown solutions to patients, families, and communities; and advocate for policies that promote drawdown solutions around the world.
Watch nurses from around the globe talk about why they're so excited to join this global movement of nurses: nursesdrawdown.org/global-launch/"
Follow Nurses Drawdown here:
Nursesdrawdown.org
Twitter @nurses_drawdown
Facebook @nursesdrawdown
Instagram @nursesdrawdown