Forces of nature: Doctors linking environment, climate change to health issues
Originally published on August 7, 2019 by Treva Lind in The Spokesman-Review.
---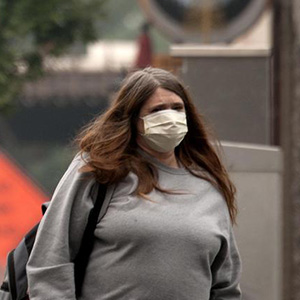 Last summer, Dr. Matt Hollon saw a lung disease patient develop an acute worsening of respiratory symptoms and an otherwise stable patient suffer a heart attack one day after severe smoky air conditions.
Hollon sees a climate change correlation. As a Spokane internal medicine specialist, he is among a small but growing number of physicians who discuss publicly their concerns about climate change and environmental factors impacting people's health.
While Hollon said he doesn't purposely discuss such topics with individual patients, he is giving public speeches to educate people about climate change impacts on health. He gave a recent webinar on the issue to members of the American College of Physicians as a state leader for the group.
"I think in the Northwest as we think about health impact and climate change, wildfires definitely come into the forefront," Hollon said. "The health impacts of wildfires mostly center on air pollution."
Smoke from regional wildfires settled into Spokane again Monday evening. An air quality alert was issued where the smoke made the air unhealthy, especially for those with respiratory illnesses. One source was the Williams Flats Fire burning more than 10,500 acres on the Colville Indian Reservation.
Also, temperatures in the Spokane region reached the mid-to-upper 90s this week, according to the National Weather Service.
Science is now linking bad air pollution to an increasing risk of heart attacks and strokes, Hollon said.
"What we recognize now is that air pollution and facets of it, like particulate matter 2.5 microns, can cause strokes and heart attacks," he said.
Tiny particles get in lungs and cause inflammation in the body, he added, and that can become a trigger for other inflammatory reactions in the body contributing to those cardiovascular incidents.
In June, several medical groups including the American Medical Association and American Academy of Pediatrics issued a call asking the government and other leaders to recognize climate change as a health emergency.
Dr. Bob Lutz, health officer at Spokane Regional Health District, is seeing more public health dialogue around global climate change linked to medical concerns. Locally, issues from wildfire smoke can severely affect the young, elderly and patients with respiratory issues such as asthma.
Additionally, people can experience coughing, watery and burning eyes and a scratchy throat.
"You can have problems with sinuses, then it can go into respiratory issues with the lungs, shortness of breath, and if you have asthma or COPD, they'll find often worsening of symptoms," Lutz said.
But he said there are broader issues for general populations.
"I think it's hard to deny there is a change in our climate irrespective of what people believe is the cause," Lutz said.
"You look at a variety of health issues that could be or are affected by increasing temperatures, changes in precipitation or infection caused by insects that may not be typical in our community. Not only regionally, but also nationally and globally, we see people significantly impacted."
Examples afar include Europe documenting its hottest year on record since temperatures were recorded, he said. In our backyard, Lutz points to the regional wildland smoke.
"We're certainly seeing more of those fires and longer-lasting than we have historically," Lutz said.
The SRHD said no amount of air particulate from wildfires is considered safe to breathe. Public data are mixed regarding increased cardiovascular hospital or emergency department visits related to such air quality hazards, but more research is needed, Lutz added.
Particulate matter 2.5 microns is highly inflammatory and extremely small, but it comes from a variety of sources, said Lutz, citing wildland fires, combustibles and also fuel sources such as vehicles.
As another health factor, people also are talking about anxiety or depression linked to concerns about poor air quality and worries about global climate change, Lutz added.
At the Spokane Regional Clean Air Agency, spokeswoman Stephanie May said Spokane averages about 355 days in the healthy air quality range, leaving about 10 days a year with unsafe levels for those at risk.
But the year 2015 seemed to mark a sharp increase in the number of days affected by smoke.
"Until 2015, we really didn't have any issues with smoke," May said. "So 2015 was really a wake-up call for us on how quickly wildfire smoke can impact the region and how severe it can get."
These factors do impact mental health, said Patricia Butterfield, a registered nurse and professor in Elson S. Floyd College of Medicine at Washington State University Spokane. Her research addresses how populations respond to environmental health issues.
She and other researchers are reviewing how people respond to days of smoky air through publicly viewable social media comments. They're reviewing impacts on people's decisions about daily activity.
"We are in the process of looking at how people talk about wildfires on social media and how they talk about their health," she said.
Along with health issues, it can affect a parent deciding to keep children indoors, she added. But does that mean six hours of Netflix or some family interactive activity?
"When you look at what's publicly available, some people say they feel trapped," she said. "They feel sad. They don't know if it's always going to be that way.
"I think a lot of us have a story in our mind about the way things used to be, and we use that story to help us gauge the present. So many people think back to where they've lived, and it seems worse."
She said people feel less overwhelmed if they reach out and talk about those concerns.
Guy Gifford, a Department of Natural Resources spokesman, said the agency has a new 20-year strategic plan addressing climate effects on forests such as impacts from insects and drier conditions.
But more is involved than climate change, Gifford said. With forest management changes since 1910, modern forests are denser in trees per acre. Past logging and smaller, naturally occurring fires influenced what naturalists in early decades described as more open regional forests with fewer trees.
"Fuel loading, that's one of the things that give us larger fires," Gifford said. "We have seen a change in the last 50-plus years in how our forests look. We started suppressing fires in 1910."
Also different now: what's called a mega fire lasting longer, he said. "Before we'd fight fires five to seven days, and now we're seeing them last seven weeks or longer," and some for most of a summer.
Under smoky conditions, at-risk groups should stay inside or lessen their time outdoors, Lutz said. "Close windows, and if you have air conditioning, put it on recirculation rather than bringing outdoor air in. Drink lots of water. It helps."
Dr. Jiten Patel, a Providence Health & Services pulmonologist, reminds patients to take precautions.
"I tell them that you need to be careful this month," Patel said. "Stay alert as it heats up and there are fires north of us, to protect themselves and to make sure they're using a mask outside."
Hollon also sees a wider global issue with cumulative impacts.
"Climate change can certainly impact individual patients. However, more important is the cumulative impact across our communities, our state, our country and the planet," he said. "This cumulative impact is what makes the climate crisis the public health issue of the 21st century."