Consortium Appeal 2020
Support the Consortium today and your donation will be matched!

Our work brings together doctors and other health professionals in support of equitable climate policy solutions that protect the health of everyone in the U.S., and prevent further damage to the climate.

Our Congress visits together continue to bear fruit. The Call to Action on Climate, Health, and Equity: A Policy Action Agenda is referenced twice in the report of the Senate Climate Caucus, and many of those policies are included in the report of the House Select Committee on the Climate Crisis.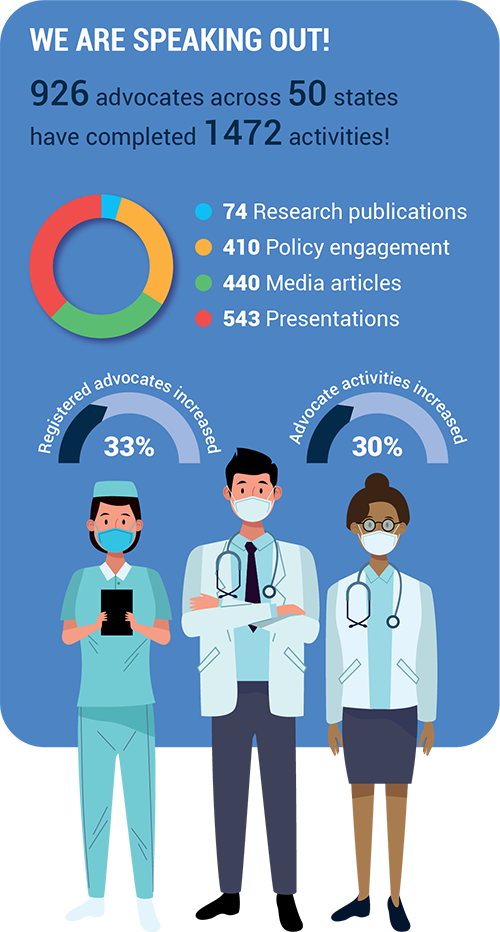 Our key messages are increasingly being communicated to the public and policymakers through the trusted voices of our members and affiliates, through our individual advocates, and through our collective efforts to place op-eds, give media interviews, make public presentations, and brief policymakers.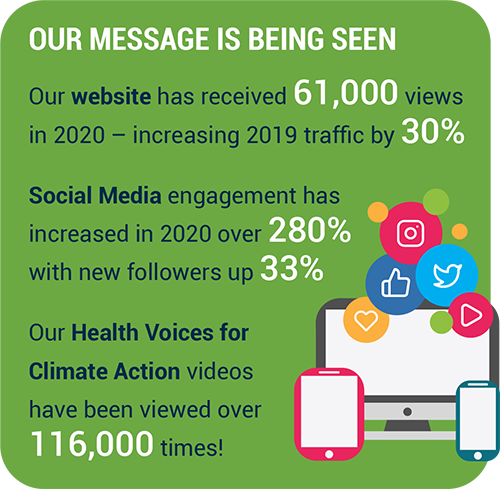 Our communication outreach has been particularly robust, and reflects a growing engagement by concerned health professionals. As part of our Health Voices for Climate Action campaign, we developed more than 30 videos—each featuring a different concerned health professional telling their own story of why they are concerned and what we can do about it—and distributed them on social media. In October these videos were watched over 116,000 times!
Your gift has twice the power!
Please consider supporting the work of The Medical Society Consortium on Climate & Health by making a tax-deductible donation today. Several generous supporters of the Consortium have pledged to match every dollar we raise—up to $125,000—by January 1, 2021.
Give Online Today: advancement.gmu.edu/21MSC


Or Write a Check:
George Mason University Foundation, Inc.
4400 University Drive, MS 1A3
Fairfax, Virginia 22030
Memo: Medical Society Consortium on Climate and Health
Your contribution is tax-deductible and will go directly to supporting the work of the Consortium.
The Medical Society Consortium on Climate & Health is a program of George Mason University Center for Climate Change Communication.
Together we can do more. Thank you for your support!