Main Page Class of 2023 Class of 2022 Class of 2021
 Fellows in Action Partners and Sponsors Webinar Series
---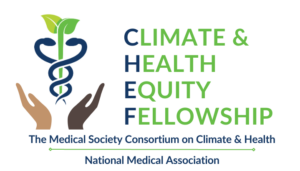 Climate Health Equity Fellowship (CHEF) Applications 2024 Open Now
Application Deadline: December 18, 2023Fellowship Runs February 2024 – December 2024
In this video, Chief Sustainability Officer of one of the Climate & Health Equity Fellowship sponsors, Johnson & Johnson, Paulette Frank introduces some of the Fellows from the 2022 class regarding the importance of the CHEF program addressing climate and health equity and their excitement in being part of such a program.
---
We empower doctors of color to become leaders in climate and health equity education, advocacy, and policy solutions.
The Climate and Health Equity Fellowship was launched in 2021 in partnership with the National Medical Association (NMA) in recognition of the fact that climate change is both a health emergency and a major health equity issue. Throughout the U.S. there is a need for more diversity in climate and health leadership and a sharper focus on equitable climate solutions. The goal of the Fellowship is to empower doctors of color from populations that face greater burdens from climate effects and are under-represented in medicine to become leaders in climate and health equity education, advocacy, and policy solutions.
The inaugural class of the Climate and Health Equity Fellowship (CHEF) saw great success. Six physician fellows with six different specialties were selected for the initial cohort from across the Southeastern United States. The fellowship took place over 10 months in 2021 with fellows meeting virtually for discussion, seminars, skill-building activities, and webinars with expert speakers also open to the public. Each month focused on a different climate and health theme, including extreme heat, mental health, transportation, clean energy, and patient and community resilience. In between monthly sessions, fellows were tasked with specific practicum activities, such as conducting public outreach and education, identifying and assessing how to respond to a climate policy or regulatory issue in the region, developing their own climate and health equity presentations, developing testimony, and writing letters to the editor. 
Each fellow was required to develop and complete a capstone project. The projects the fellows took on in the inaugural cohort were diverse, expansive, and impactful. These projects included: 
Reducing greenhouse gas emissions in anesthesiology 

Building democratic rural electric co-ops for clean energy 

Organizing a climate and health symposium in South Carolina 

Introducing climate and health resolutions at the National Medical Association 

Creating a medical professionals guide to disaster relief and mutual aid 
Fellows from the first and second cohorts have gone on to write book chapters, academic papers, and op-eds on climate and health, provide testimony, and continue to establish themselves as leading climate advocates in their specialty.
2023 marks the third year of the Climate and Health Equity Fellowship (CHEF) program with a class of 13 Fellows from across the U.S. as well as the launch of the CHEF Alumni Engagement Network (CAEN) for the graduates of the previous two classes. This cohort was selected from across the United States, with fellows coming from Mississippi, Connecticut, Georgia, Alabama, Florida, Illinois, Louisiana, Texas, Hawaii, California, New York, and Wisconsin.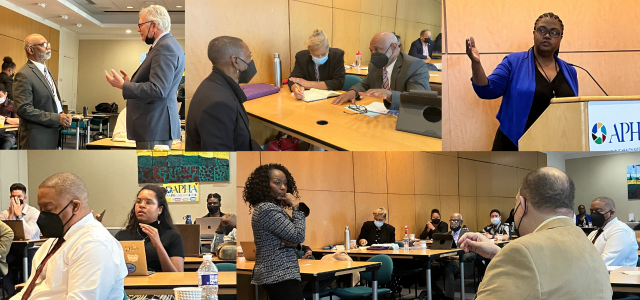 The thirteen fellows represent diverse specialties, advocacy experiences, cultural backgrounds, and interests in climate and health. Earlier this year, the group came together for an in-person orientation in Washington D.C., pictured above. To follow along and keep up with the projects of our fellows, check out our "Fellows in Action" page.
Currently, we are in the planning stages of launching a full-time fellowship, the Policy Experience in Equity, Climate & Health (PEECH) Fellowship, which will be a program designed to help address the equity issues around climate and health policymaking and bring physician leadership from underrepresented communities to Congress and federal agencies. Please stay tuned as more information about PEECH is released in the coming months.
---
"The program has been effective and instrumental in increasing my knowledge on climate change and health equity as well as my ability to advocate for marginalized communities."
– Steven Houser, MD
"Phenomenal program.  I recommend all physicians get climate certified."
– Linda Walden, MD
"Growing up in Hawaii, climate change and environmental justice have always been important concerns to me and my family…..The CHEF program gave me the tools, mentorship, and medical community to help me develop my skills in education and advocacy on climate change and health equity."
– Nicole Mahealani Lum, DO
"Excellent fellowship, I really enjoy networking and learning. It (the Fellowship) really cares about black and brown communities and how we can improve their health using climate justice."
– Ricardo Correa, MD, EdD
---
Read about the Class of 2023 Climate and Health Equity Fellows.
Read about the Class of 2022 Climate and Health Equity Fellows.
Read about the Class of 2021 Climate and Health Equity Fellows.